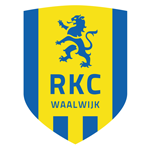 RKC Waalwijk will hire Mika Biereth from Arsenal for the coming season, the club announced through its own channels. The nineteen-year-old striker has signed a lease for one season in Waalwijk. RKC describes Biereth as 'one of the greatest talents in Arsenal's academy'.
Frank van Mosselveld, general manager of RKC Waalwijk, is very pleased with the arrival of Biereth. "We are very happy that we were able to hire Mika. With his game and potential, he is one of the greatest talents of the Arsenal academy and therefore a great opportunity for us. At RKC next season he will have the opportunity to make minutes every week at Eredivisie level and thereby develop further."
RKC is busy with a busy transfer summer. Julian Lelieveld (de Graafschap), Kevin Felida (FC Den Bosch) and Joey Kesting (PEC Zwolle) were previously contracted for Biereth. RKC finished in tenth place in the Eredivisie last season, which means that the Brabant players are sure of Eredivisie football for another year. Last season, Jens Odgaard was the trendsetter in the striker at RKC with eight goals and six assists. However, the Dane, who was rented from Sassuolo, is now likely to leave for AZ for 4.5 million euros.
Biereth played for Fulham's youth academy between 2019 and 2021. He scored 25 goals in 37 games for the London club's Under-18s and was a goal scorer 15 times. Biereth left for Arsenal in the summer of 2021. For the Under 23 team of the gunners he was good for 12 goals in 26 games. Biereth was born in London, but also has Danish nationality. The striker made his debut for Denmark Under 19 last October.
Related
More sports news