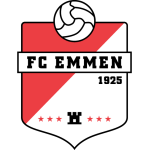 Ronald Lubbers will not return to FC Emmen for the time being, the club has announced through the official channels. The chairman resigned from his duties in mid-March due to health reasons and needs more time to recover than expected. Lubbers is not expected back until August 31. The Board and the Supervisory Board consider the activities of the clubman.
Emmen initially only reported that the chairman is struggling with health problems. It was expected that he could return over time, but the recovery is therefore taking longer. Lubbers gained fame in the football world as director and savior of FC Emmen. At the end of 2003, he joined the Supervisory Board of the current number sixteen of the Eredivisie as a member of the Supervisory Board.
"I want to thank all people for the many messages and beautiful gifts I received," Lubbers said in a response to the club site. "There were so many that I was not able to respond to everything and I want to let you know through this way that it has done me very well. I know that Dick (Lukkien, trainer, ed.) and his men are doing everything they can to make us to continue acting at the highest level next season."
Lubbers' duties will provisionally be performed by the Supervisory Board and the Board. Among other things, they are involved in the selection process for several key positions within the club. "It reassures me that my fellow board member Herman Harms and the Supervisory Board are working diligently to fill these crucial positions for FC Emmen, I am convinced that the organization of our club will receive a boost," concludes Lubbers.
Related
More sports news
1 comments