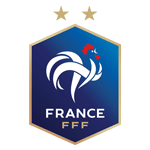 KFC threatens to take legal action against Kylian Mbappe. The 23-year-old star player of Paris Saint-Germain refuses to cooperate in a sponsorship deal of the French national team in collaboration with the fast food chain and he is not thanked for that.
Alain Beral, the vice president of the French branch of KFC, spoke with the Sport Business Club know how to be angry about the way things are going. "We have paid for clear agreements and if necessary we will exercise our right." Mbappé refused to participate in a team photo shoot and various sponsorship activities last Tuesday. The attacker wants to be a role model for young people and therefore does not promote certain brands, such as fast food chains and gambling companies that are contractually linked to the French federation.
Mbappe announced last Monday that he would not participate in the sponsorship activities. The star player does not agree with the agreements regarding his portrait rights with the national team. The current agreement between the players and the French Football Association dates from 2010 and the compensation that the internationals receive for this, 25 thousand euros per game played, does not do justice to certain players with a high profile.
The football association therefore released a statement last Monday in which it indicates that the agreements will be reconsidered. "The FFF, after holding talks in the presence of representatives of the French team, the chairman, the trainer and the marketing manager, has decided to review the binding portrait rights as soon as possible. The FFF is looking forward to complying with the new conditions work that will promote the interests of the players, taking into account the legitimate concerns expressed unanimously by the players."
Related
More sports news