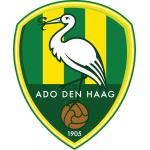 The official debut of Dirk Kuijt as trainer of ADO Den Haag has turned out to be a fiasco. Halfway through the lost Kitchen Champion Division duel with Heracles Almelo (4-0) Kuijt's team was already trailing 4-0. In the second company, the damage was limited and there were no more hits, partly due to a missed penalty by Samuel Armenteros. Kuijt speaks in front of the camera afterwards ESPN express his disappointment.
Marko Vejinovic opened the score from a free kick, after which two goals by Samuel Armenteros and a goal by Nikolai Laursen made it 4-0. Halfway through, analyst Hans Kraay Jr. already concluded that ADO's game was a 'huge failure'. "What do you do when you're Kuijt? You have to hope that the bus leaves as soon as possible. They will never make up for this today. They are completely drowsy in midfield. This is a mega failure," said Kraay halfway through.
After the match, Kuijt admits that he had expected more from his debut as head coach, but in the end the coach does not want to jump to conclusions. "It's just very disappointing. First and foremost for the fans. In addition, also for the players, because they have trained very well and hard in the past five weeks. They have not been able to reward themselves today. You can lose to Heracles here, but the way is just sour. We expected a small storm. That storm also came, but afterwards it went wrong."
"Just before half-time, we still had chances to make it 3-1," continues Kuijt. "In general it just wasn't good. A lot of players didn't have the form they had in the past matches in preparation. So you see that you can never say anything about the preparation, but I had a completely different feeling before the race. Today is sour and it hurts too. I feel really bad for the boys, but I still have a lot of confidence in this team. We are certainly not going to put the ambitions in the fridge," concludes the coach.
Voetbalzone is the official media partner of the Kitchen Champion Division
Click here for exclusive interviews, talent scouts, current positions and the program on our Kitchen Champion Division page.