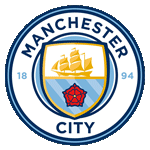 Manchester City was helped a lot on Tuesday evening during the return in the Champions League against RB Leipzig. Pep Guardiola's team was allowed to moor halfway through the first half from eleven meters after hands from Benjamin Heinrichs. Erling Braut Haaland took advantage of the opportunity, but according to many, the ball should never have hit the spot. Cesc Fàbregas, among others, immediately made himself heard via Twitter.
There seemed to be no problem for Leipzig when it managed to keep City from scoring at the Etihad Stadium in the first fifteen minutes. A few minutes later, however, the ball was against the ropes, when Referee Slavko Vincic was called to the screen because of an alleged handball from Heinrichs. The German touched the ball lightly with his arm after a header from Rodri, after which Vincic put the ball on the spot. Haaland did not fail and left Janis Blaswich without a chance.
????????????????, ????????????????! ?? The Norwegian hits the mark from a very easily given penalty kick after hands from Benjamin Henrichs.. ?? Well @RafvdVaart, what do we think of this? ??#ZiggoSport #UCL #MCIRBL pic.twitter.com/R6ZniXfztT

— Ziggo Sport Football (@ZS_Voetbal) March 14, 2023
Vincic's decision led, among other things, to misunderstanding by Fàbregas, who expressed his displeasure on Twitter. "We are completely lost if this is a penalty," the former Chelsea and Arsenal player hurled into the world. Alan Shearer also couldn't believe what he saw. "What a lot of shit is the hand rule," said the former top striker. The Sun speaks of the 'worst decision ever'.
After the striking penalty kick, Haaland was also responsible for the 2-0 and the 3-0. The second was a rebound on a shot from Kevin De Bruyne, with the third goal he got the ball on the goal line. The Norwegian is now on 30 Champions League goals in 25 games. No player reached those numbers. The previous record was held by Ruud van Nistelrooij, who needed 34 games to score 30 goals.
What a pile of shit the hand ball law is. #pathetic #MCIRBL

— Alan Shearer (@alanshearer) March 14, 2023
We've lost the plot if that's a pen

— Cesc Fabregas Soler (@cesc4official) March 14, 2023